International Marketing Systems presents an innovative professional development seminar program developed for the gaming industry and coming soon to the oil marketing and food service/QSR categories.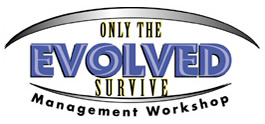 Success in the gaming business isn't simply about customer service anymore. Or having the coolest attractions. Or the most restaurants. Or shops. Or big name entertainment. That's a given. The "cost of entry." Today, you've got to take it further. Your entire organization must know how to maximize the customer experience. Your management and employees have got to understand what customers need, want, and feel. They must constantly work to offer the most innovative, complete entertainment experience. If your people don't "get it" if they can't or won't rise to the challenge your organization will fail to evolve. You will lose customers, employees, and profits. Ultimately, your company will not survive.
ONLY THE EVOLVED SURVIVE is a two-day "off site" seminar, presented in a fast-paced, highly experiential format of theatrical and interactive modules. It is custom-designed (for the gaming category) with the goal of firing up your managers and empowering them to begin the process of leading the evolution at your property. Along with IMS' senior marketing strategists, a special Gaming Evolution Advisory Board and Valerie Oberle have developed the ONLY THE EVOLVED SURVIVE curriculum.